Bogman is the Only Villain From History Times He Is Known As A Demon In The Loo Or The Roaring Skeleton His Roars Dont Sound Human It Is UnKnown Who He Is Voiced By He Wants To Get Revenge On Helens Father But I Think Bogman Thinks He Killed Him But Im Not Sure But If Helen Did'nt Tell Him He Would Treat Her As A Slave In The Loo. He Is A Angry Person At The Start He Starts Crashing Rocks On The Other Cavemen And The Others push Him Into Bog Then Becomes Bogman And Is in The Newspaper.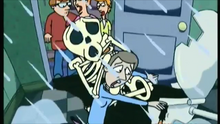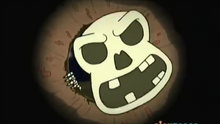 Ad blocker interference detected!
Wikia is a free-to-use site that makes money from advertising. We have a modified experience for viewers using ad blockers

Wikia is not accessible if you've made further modifications. Remove the custom ad blocker rule(s) and the page will load as expected.