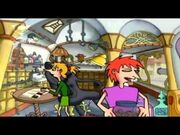 Peregrine
is a very badly-behaved boy who lives in the town of
Saucy-by-Sea
from the
series 1
episode
The Barber of Civil
.
Peregrine gets sent to the headmaster's office by his teacher when he sings a rude song to her in class, and he and Tanya are so badly-behaved to him that he faints.
The following day a new barber moves into Saucy-by-Sea and he tells Tanya and Peregrine to come and get their hair cut at his shop the next day. While at the shop, Peregrine accidentally swallows what he thought was a slug, but is in fact a cheeky tongue, and it is revealed that the barber is actually going to snip out the parts of their tongues that make them cheeky.
When Peregrine returns to school the following Monday, he is no longer badly-behaved, and his tongue is considerably shorter . . .