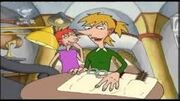 Tanya is a very badly-behaved girl who lives in the town of
Saucy-by-Sea
from the series 1 episode
The Barber of Civil
.
Tanya gets sent to the headmaster's office by her gym teacher when she refuses to take part in gym class, and she and Peregrine are so badly-behaved to him that he faints.
The following day a new barber moves into Saucy-by-Sea and he tells Tanya and Peregrine to come and get their hair cut at his shop the next day. However, when they arrive it is revealed that the barber is actually going to snip out the parts of their tongues that make them cheeky.
When Tanya returns to school the following Monday, she is no longer badly-behaved, and her tongue is considerably shorter . . .
Ad blocker interference detected!
Wikia is a free-to-use site that makes money from advertising. We have a modified experience for viewers using ad blockers

Wikia is not accessible if you've made further modifications. Remove the custom ad blocker rule(s) and the page will load as expected.