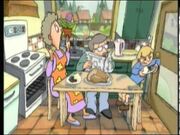 This is the second episode.
Appearance
Edit
Timothy wears a blue jumper and lighter blue trousers. He has fairly long blond hair, he is quite fat.
This is the first episode with only one child.
The intro is very quick, it only shows Uncle Grizzly saying "I bet you don't know where spaghetti comes from?" then the boy looks at the worm again, then Uncle Grizzly says "I grow my own!" then laughs. Then slow peaceful music plays instead of the normal music.
This is a fairly gruesome tale.
Ad blocker interference detected!
Wikia is a free-to-use site that makes money from advertising. We have a modified experience for viewers using ad blockers

Wikia is not accessible if you've made further modifications. Remove the custom ad blocker rule(s) and the page will load as expected.