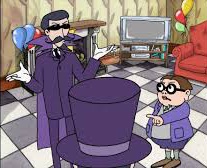 The Top Hat
is the thirteenth episode in series 4 of
Grizzly Tales for Gruesome Kids
.
Characters
Edit
Benjamin is the most spoiled and greedy toddler in the world. The toddler changes into a child, and like his toddler self, Benjamin is so spoiled that he doesn't even take care of gifts! One day, it's his birthday. After a magic show, Benjamin steals a top hat that grants wishes. After lots of wishing, the owner comes calling. His parents wish that he wasn't there and a hand appears and pops him head first into the top hat! To this day he's still there, and only says sorry...
Benjamin was never seen again,but is mentioned to be in the top hat somewhere . . .
Among the things that the boy wished for was a flying bunny with angel wings, two sweet jars, a brown football, a laptop, a race track with cars, a tv, a bike, dogs and more!