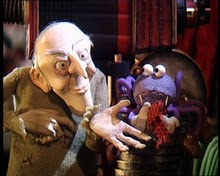 You are welcome to Grizzly Tales for Gruesome Kids!
-Uncle Grizzly             He is the owner and employee of the Cinema, Squeem Screen.
Uncle Grizzly is the creepy cinema owner that appears at the beginning of each of the episodes in the first few seasons. It appears that Uncle Grizzly is the only person running the cinema as he must complete all tasks shown in the introduction. He mans the front doors and the ticket booth and he is the usher that shows guests to their seats and give them popcorn boxes full of creeping bugs. He gives a short talk about the show until he turns the projector on and the show starts.
Uncle Grizzly is somewhat cruel and nasty to his pet spider Spindleshanks.
His human head turns into various strange animal or human heads in some episodes usually being to entertain the audience or scare Spindleshanks. For example, his head turned into a flyhead in the episode Death By Chocolate.
His only known relative is his Half-Brother The Night Night Porter .
Ad blocker interference detected!
Wikia is a free-to-use site that makes money from advertising. We have a modified experience for viewers using ad blockers

Wikia is not accessible if you've made further modifications. Remove the custom ad blocker rule(s) and the page will load as expected.